About WinWorld since 2003
WinWorld was created with one purpose in mind: to share and preserve abandonware and pre-release software that has long since fallen out of common use for the public good. Many of us grew up experimenting with old computers and software, and we wish to continue providing the opportunity to learn and experiment with old software for the next generation of geeks. In addition to aiding young geeks like us, we also aim to help people in less fortunate circumstances, who may not have the resources or means to acquire modern hardware and software.
Without a doubt the most popular feature of WinWorld is our freely accessible software library. Currently our collection is around 200GB, consisting of alpha, beta and abandonware operating systems and applications, as well as other miscellaneous software and documentation which may be of interest.
Our forum community which has existed since 2003, WinBoards, is our second most popular feature. Guests are encouraged to stop by and post, or better yet, register! It's quick and easy. Our members and staff are generally friendly and here to help.
Our History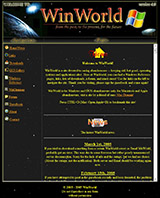 The origins of WinWorld go back to a website called "WinWorldXP" which was created by "Winman31" in 2002. WinWorldXP didn't last very long (though it's name would live on), but in it's place came WinVision. The forums at WinVision were where many of those in our community first met each other and began their foray into the abandonware "scene".
Version 1.0 of WinWorld was opened in early 2003, the inspiration having been provided by WinVision and other abandonware websites. Designed in Print Shop Web Designer 1.0 and hosted on Bravenet, it tried to make up for it's lack of functionality and content in WordArt and other colorful nonsense. A month or so later, a second version was developed, this time in Microsoft FrontPage. Around this time the mysterious "Q" volunteered to write articles for WinWorld. The following spring "KDog" became a part of the WinWorld staff, and started developing WinWorld v3. While it's basic iframe design wasn't much by today's standards, it served it's purpose. Towards the new year, a decision was made to merge the WinVision and WinWorld forums. This led to the creation of WinBoards, with our current database's earliest posts dating back to December 2003. Over the next two years, WinWorld would undergo many disputes, server changes and staff members coming and going for various reasons.
A consequence of heavy bandwidth usage and copyright issues, finding adequate hosting proved to be one of the most significant challenges in WinWorld's early years. As a result our website and downloads were hosted on at least a dozen different servers over the years, from home servers hosted on 1.5 Mbps DSL to university servers on a gigabit line. Fortunately now WinWorld is hosted exclusively on reliable, dedicated servers provided by generous members and staff. If you are interested in providing a mirror for us, you can find more details on our Contact page and a form for contacting us.
In 2005 that an attempt was made to modernize WinWorld with a new site design, emphasizing the use of PHP. Originally designed by "Ian" and later modified by "stitch", the design (dubbed v5) never reached a stage of being deployable. After many temporary closures, revivals and clones, it was decided to officially close WinWorld and WinBoards in August 2007. In the months following this, several sites attempting to replace WinWorld popped up, most with little success. Throughout this time, many of the original WinBoards members could still be found in the forum IRC channel.
Three years later, WinBoards and WinWorld were revived by several members of #winboards . Initially only WinBoards was restored, but a few days later an early copy of WinWorld was located, and slightly modified to comply with new web standards. A new site design was rolled out in late October 2010, with a focus on simplicity, accessibility and compatibility. The current staff at WinWorld approach it with what could be called a stoner ethic - do whatever, whenever. So far, it's worked out pretty well.
The future of WinWorld and WinBoards has never been certain, however it seems there will always be those determined to keep it alive.